Back in early 2020, when the Covid pandemic hit Europe, the EU Global Facility on AML/CFT was all set to launch a global programme of technical and training support to reduce money laundering and terrorist financing. A year later, while other development programmes stalled and despite severe lockdowns and a raft of travel restrictions, the team had delivered over a hundred training events reaching almost 2,500 participants.
The unfolding global pandemic demanded a major re-think by the EU's team of financial experts. "Plans we had made for travel and training events collapsed in front of our eyes. We realised we had to adapt quickly," said Global Facility Team Leader, David Hotte.
"As a team we came together in response to the pandemic. We planned and worked extra hard. We travelled, tested and met according to the rules. It didn't stop us carrying out our mission. We decided to create a whole new training strategy." The Global Facility changed to delivering a lot of its assistance through online activities so that towards the end of 2020 they were delivering 10 online activities each month. (see Figure 1)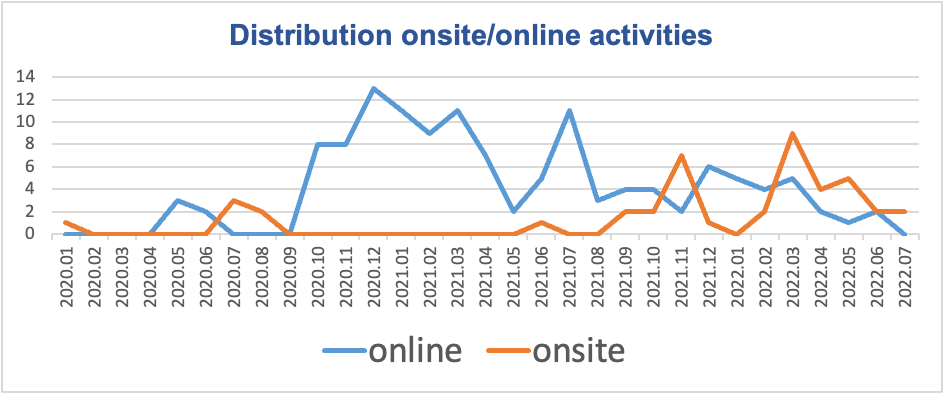 When travel restrictions first started to bite, the Global Facility had already built-up a pool of 50 experts which it could re-deploy towards online activities. Amongst the trainers and advisers were former and current investigators, judges, regulators, central bankers and civil society representatives from more than 20 countries around the world. These experts complemented the Facility's full-time staff based in Brussels who provide core expertise in anti-money laundering, covering regulation, law enforcement, judicial and civil society.
Effective e-training – "1 week, 1 course, 1 group, 1 teacher, 1 country"
The Global Facility embraced the new reality of online connections and video conferencing. It procured video conferencing equipment and software to ensure smooth and reliable remote conferencing. From early 2020 the Global Facility started to develop an e-training syllabus. Eighteen months later, the project had mined the collective knowledge of AML/CFT experts from around the world to create a catalogue of more than 120 training modules.
Topics reflect FATF's recommendations and outcomes, and include topical issues such as remittances and cash couriers, and the risk-based approach to supervision. Modules were created in multiple languages, ready to be deployed wherever they might be needed. Investing in an organised database of training material early on meant it could respond quickly such that it has been able to deliver training on average three weeks after receiving a request. At the same time, the Global Facility adapted to the limitations arising from training online. To retain focus and participation in training courses a method was adopted which meant the same group of participants from one country was matched to a single trainer and kept to one main topic over the course of a week's training.
By May 2021 the Global Facility had supported 25 countries, both bilaterally and as participants in regional activities, with initial advice and assistance, following more than 30 scoping meetings with anti-money laundering authorities and regulators.
Innovating amidst a global pandemic – two pathways to success
The Global Facility sustained a global approach to its work despite the many challenges and travel restrictions posed by Covid. And, the Facility learned and refined its approach to training delivery during this period. The development in approach unfolded in two ways. First, by assigning specific Global Facility experts to coordinate with particular countries training and technical support could be efficiently assessed and designed through one point of contact. The coordinators developed assistance that might cover a variety of topics, tailored according to the needs of partner countries.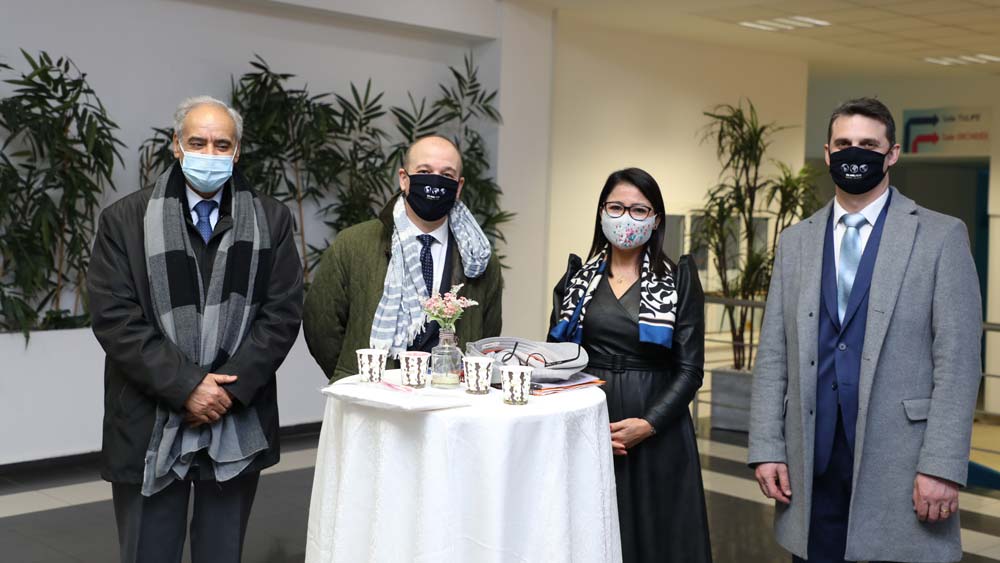 Delivering technical assistance that brings together those working in different sections of the penal chain has been an important innovation for the Global Facility. Bringing together experts who work in different parts of the justice system so that, for instance, investigators can understand the challenges and needs faced by judges trying money laundering cases. This approach bore fruit in Jordan. The Global Facility team travelled to the Middle East Kingdom in August 2021 to deliver joint law enforcement and judiciary training. Just as the Kingdom's 10 million population were experiencing a relaxation in Covid restrictions the Facility provided a three-day syllabus of training to more than fifty officials from law enforcement, the national judicial council and Jordan's financial intelligence unit. During 2021, Jordan was one of 12 countries that the Global Facility supported.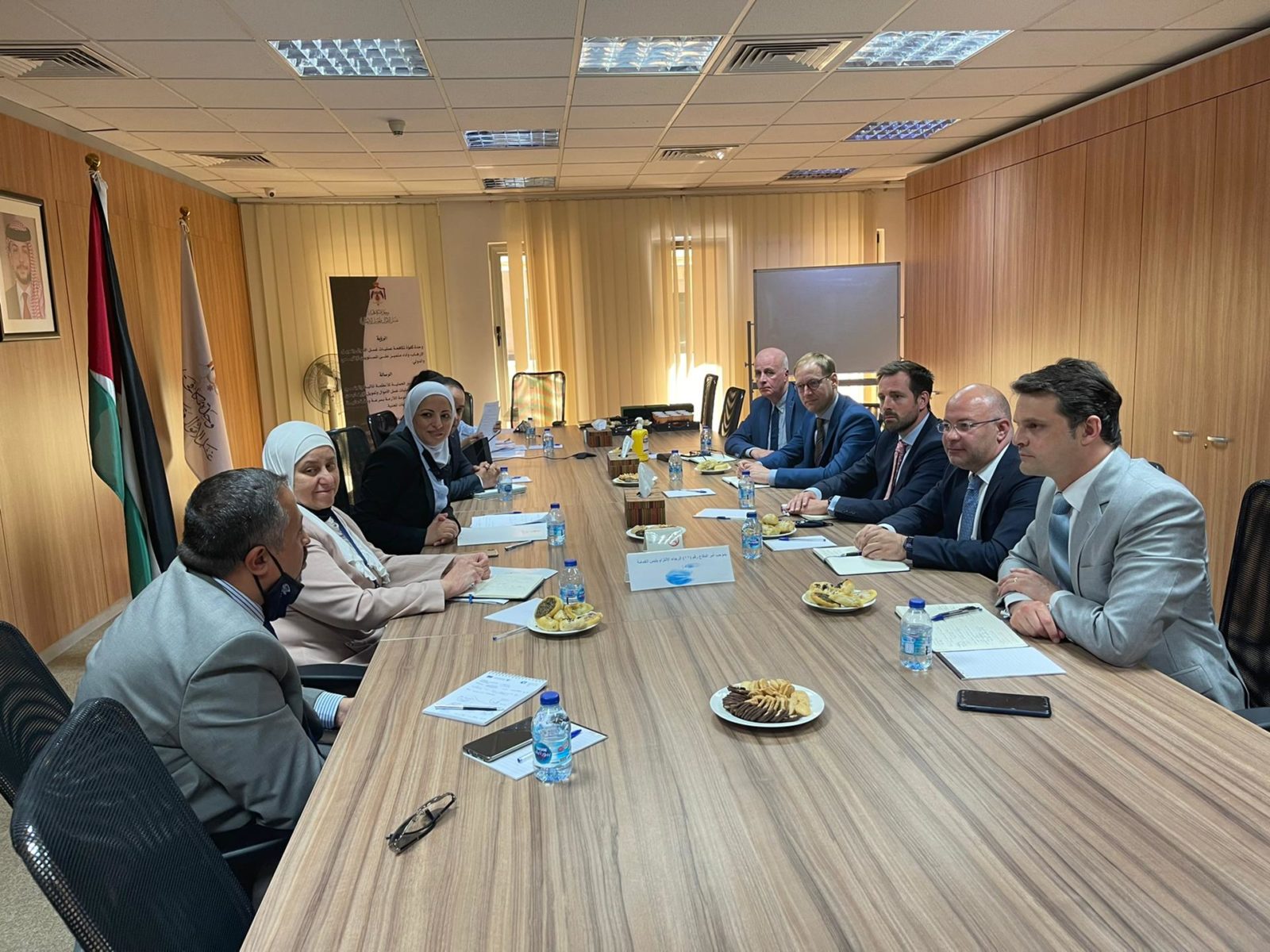 The second development came in building up a global network of experts who could share best practice amongst networks of officials and experts at a regional level. It was an approach that the Facility had envisaged prior to the pandemic but now it became of central importance to maintaining the pace of programme delivery.
In August 2020, experts from the Global Facility quarantined for two weeks before delivering training to officials in Mauritius to strengthen their reporting of suspicious transactions, improve understanding of beneficial ownership and develop their compliance with international FATF standards. Yonesha Sahye, Head of AML/CFT at the Mauritian Ministry of Financial Services explained how the Global Facility supported her country's reforms, "The EU Global Facility team, through its wide network and expertise, was able to provide us with high calibre and prominent experts." Mauritius and Zambia both received support from the Global Facility and were removed from the FATF's "grey list" in late 2021.
"We all have a common goal of protecting our financial services sector from illicit activities."
Today, Mauritius is working with the Global Facility to share lessons learnt and hands-on experience in supporting other countries. Experts from Mauritius, who were trained before the Covid pandemic struck, have delivered training to Panama, Jordan, Jamaica and Zambia. "Mauritius is committed to sharing its experience and best practices with the countries in the region and beyond," says Yonesha. "We all have a common goal of protecting our financial services sector from illicit activities."
Despite all the constraints, extra hurdles and challenges the Global Facility stepped forward to deliver real impact during the Covid pandemic. Mauritius, previously evaluated by the FATF to be deficient in its implementation of recommendation 8, received support from the Facility and others, and was subsequently re-assessed as largely compliant in late 2021. Similarly, Botswana, Jamaica and Mongolia improved their compliance ratings according to the FATF, following support provided by the Global Facility.
Crime and money laundering did not stop during the pandemic. Indeed, there is evidence that the resulting surge in online transactions made due diligence more difficult, and increased money laundering risks. Every Euro will count in rebuilding economies and societies around the world. Europol launched an intelligence sharing operation to prevent future fraud against EU recovery funds, and the European Union announced a comprehensive Action Plan to defend against money laundering and terrorist financing. Together with other parts of the EU, the Global Facility has risen to the challenge of tackling money laundering and terrorist financing in the age of Covid.
The EU Global Facility on Anti-Money Laundering and Counter the Financing of Terrorism is managed by the European Commission's Service for Foreign Policy Instruments (FPI) and implemented by Expertise France, in partnership with the Deutsche Gesellschaft für Internationale Zusammenarbeit – GIZ and Northern Ireland Cooperation Oversea – NI-CO.
This article is the sole responsibility of the EU GF-AML/CFT and does not necessarily reflect the views of the European Union.